Simple transposition: anagram method
A simple transposition divides the plaintext into equal length blocks and then rearranges the letters within each block so the resulting letters are an anagram of the equivalent section from the original text. Each block is divided up in exactly the same way.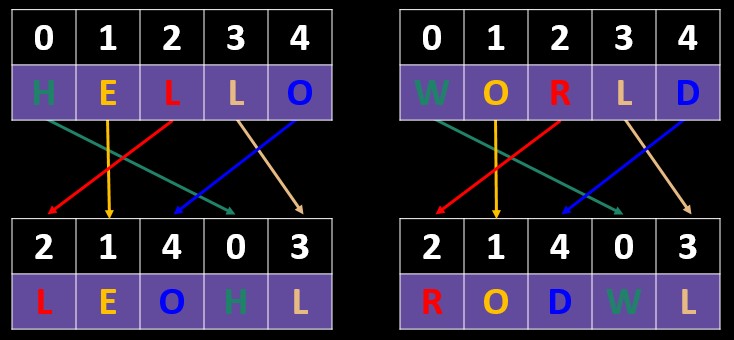 The anagram is applied according to a key which refers to the positions of each letter. In the example above, which uses the key '2,1,4,0,3', the first letter in the ciphertext is the letter that was at position 2 (i.e. the third letter) in the original text.
The key does not have to be 5 characters long – any length is possible. If the key is 5 characters long, then the number of possible anagrams that can be made is 5 x 4 x 3 x 2 x 1 = 120, i.e. 5!. This is because you have 5 choices for the first letter, then 4 remaining for the second letter and so on. The number of possible anagrams, being based on the factorial of the length of the key, grows very quickly:
5! = 120
6! = 720
7! = 5040
8! = 40320
9! = 362880
10! = 3628800
15! = 1307674368000
Tripling the key length from 5 to 15 characters, changes the number of possibilities from 120 to over 1.3 trillion!