Substitution Cipher – Cracking it manually
This message has been created using a substitution cipher:
QZV FVVX QL CLDDOFJCYQV KJQZ VYCZ LQZVM SVCMVQBI ZYS RVVF Y CLFSQYFQ GVYQOMV LG ZODYF VAJSQVFCV, GMLD YFCJVFQ CJNJBJSYQJLFS SVFXJFP QVFQYQJNV DVSSYPVS QL VYCZ LQZVM, EMLELSJFP YF YBBJYFCV, QL EMVSVFQ XYI OSVMS LG QZV JFQVMFVQ EYSSJFP QZVJM CMVXJQ CYMX XVQYJBS QL LFBJFV SVBBVMS.QZV RYQQBV RVQKVVF QZLSV QMIJFP QL HVVE QZVJM SVCMVQ DVSSYPVS SVCOMV YFX QZLSV QMIJFP QL JFQVMCVEQ YFX OFMYNVB QZVD JS DOCZ BJHV QZV FVNVM-VFXJFP YMDS MYCV RVQKVVF EMVXYQLM YFX EMVI JF QZV KJBX. YS QZV EMVI YFJDYB SEVCJVS VNLBNVS QL XVNVBLE Y RVQQVM XJSPOJSV YFX QL MOF GYSQVM, SL QZV EMVXYQLM VNLBNVS QL XVNVBLE RVQQVM VIVSJPZQ YFX QZV CYEYCJQI QL MOF GYSQVM, GLMCJFP QZV EMVI QL VNLBNV YPYJF QL SOMNJNV. SJDJBYMBI, Y FVK CJEZVM JS CMVYQVX YFX DYI JFJQJYBBI SOMNJNV YQQVDEQS QL CMYCH JQ, ROQ, LFCV NOBFVMYRJBJQJVS JF JQ YMV XJSCLNVMVX, SL QZV CLXV-DYHVMS QMI QL XVNVBLE DLMV SLEZJSQJCYQVX CJEZVMS QL POYMYFQVV QZV SVCOMJQI LG QZVJM DVSSYPVS.
Set out like this, the message is almost too easy to crack. The first thing to do is to look for single letters words as, in English, these are highly likely to be 'a' or 'I' (or much less frequently: 'O').
There is another useful feature of English: the 3 letters (known as a trigram) of 'THE' are the most frequently occurring block of 3 letters. In fact, they are about 2.5 times more likely to occur than the second most frequently occurring set of 3 letters ('AND'). Even just a quick scan of the cipher text will reveal that the 3 letters 'QZV' seem to appear a lot, and they actually occur 18 times. The next most frequently occurring set of letters in the cipher text are 'JFP', which appears 7 times. It seems likely, therefore, that 'QZV' = 'THE'. This is very useful as we now probably know the substitution letters for 'E' and 'T', the two most frequently occurring letters in English.
So let's substitute those letters in: QZV >>> THE. There is one single letter word 'Y', which occurs about three times. Let us assume that it is 'a', so Y >>> A (if this does not work, we can always try the other single letter word in English: Y >>> I).
I have used the 'cracking substitution cipher' section on this website to show the progress that we have made so far with this message: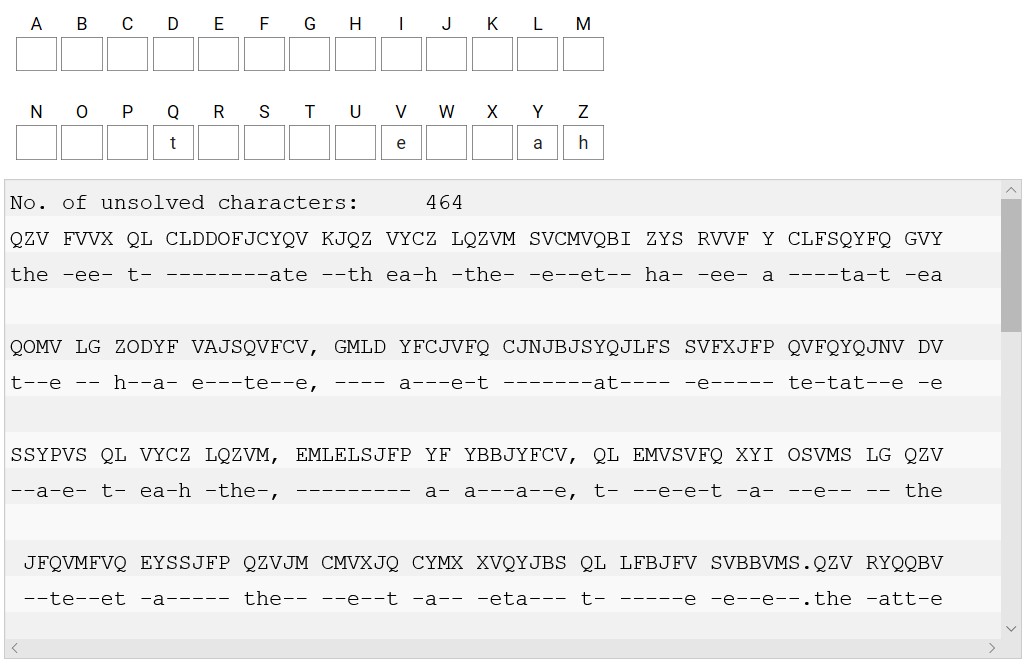 We can now quickly fill in other letters. The third word of the cipher text 'QL' translates to 'T?', so we can be confident that L >>> O. The sixth word ('VYCZ') translates to 'EA?H', so C >>> C (a letter can be substituted by itself in a substitution cipher).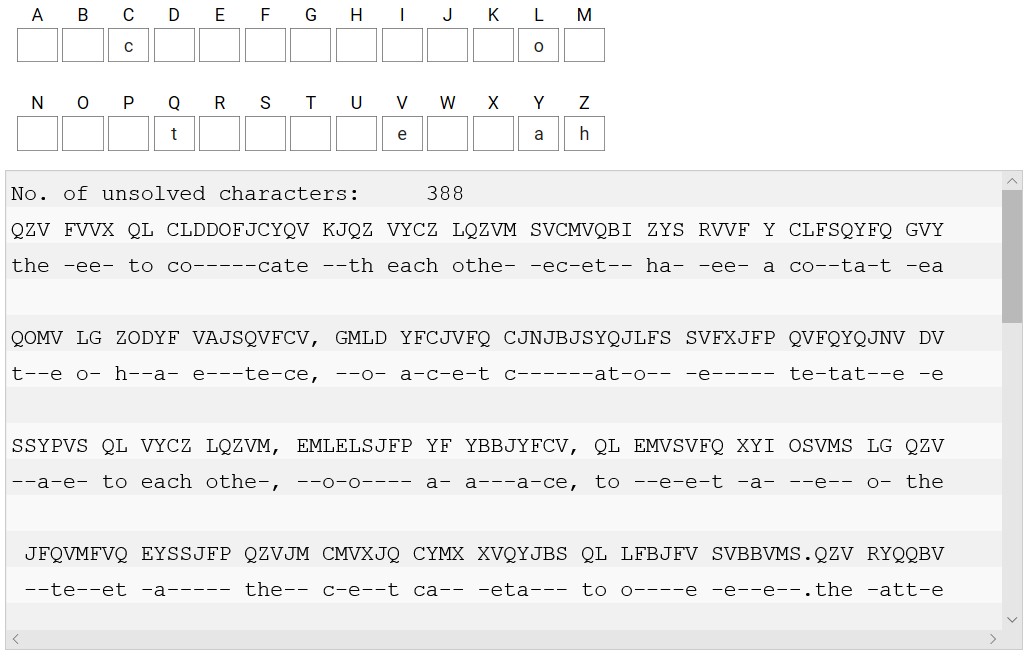 The fourth word 'CLDDOFJCYQV' translates to 'CO-----CATE', and the only suitable word appears to be 'COMMUNICATE'. This gives us more letters: DOFJ >>> MUNI. Now we know that 'J' is 'I', the fifth word tells us that K >>> W. The seventh word tells us that M >>> R.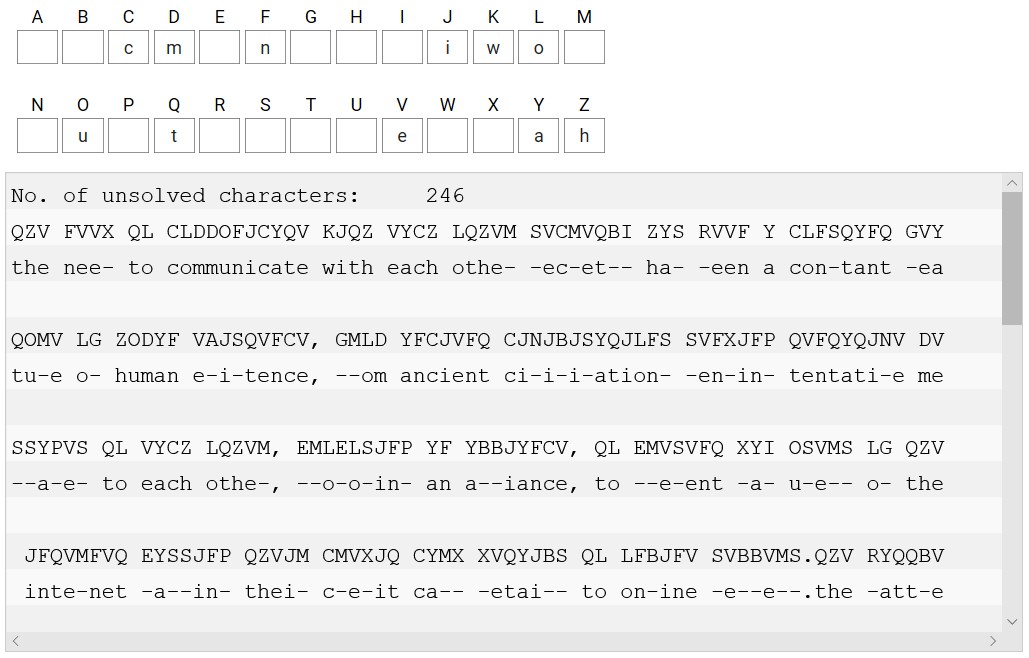 If you would like to finish cracking this message, copy the text from the top of this page, copy it into the top box on the code-cracking page, select 'Crack substitution cipher' and then enter the letters into the boxes that appear underneath. If you want to cheat, you can press the 'Crack substitution cipher' button to get the website to crack it for you automatically ...
This has been a very easy message to crack. On the next page, we try something a little more difficult.